---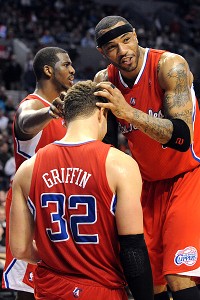 There are certain burdens that come with being a contender. A road win in a place like Washington and Charlotte becomes as insignificant as a gifted student earning an A in a crip course, and nearly every home loss serves as an indictment of title hopes. The Los Angeles Clippers now reside in this rarified world, a place where success is measured in May and ugly wins are examined for harbingers of future failure.
For the Clippers and their fans, adjustment to life on an upper floor can produce vertigo. The team has never had a leader like Chris Paul, a perfectionist who grumbled after the unsteady home victory over Memphis during which the Clippers let the Grizzlies back into a game that should've been a laugher. A 4-2 road trip back east would've been cause for euphoria in years past. This season, it's the Clippers merely shooting par. Two All-Star starters?! Tell it to someone who cares. More exciting and charismatic than the Lakers! There's no fabric in the rafters.
Paul intuitively knows all this. He appreciates the talent that surrounds him -- supernova Blake Griffin; professional yeomen like Caron Butler, Kenyon Martin and Reggie Evans; safety nets Mo Williams and Randy Foye; young'uns DeAndre Jordan and Eric Bledsoe. But Paul realizes the composition of the Clippers' roster only underscores a singular truth: None of it means bupkis if the Clippers don't conjure their finest basketball against the teams standing between his team's potential and its promise.
0 blog comments below