---
The Best HTML Editor?
There is no such thing as "the best HTML editor"; rather what we have is the HTML editor best suited for one's needs.When I was beginning to write webpages, I used FrontPage Express, then still a freeware addon to the Internet Explorer.It was the editor best suited for my needs then, since it not only helped me create webpages, it also "taught" me the HTML tags I needed to write a webpage.But then, when I started to use the cut and paste javascripts I found on the web, I noticed that Frontpage would erase them as some alien form of writing each time I tried to save a page where I have pasted them.That was when I discovered the use of Notepad. It accepted whatever I pasted on to it, without question or comment.So from Frontpage I moved on to Notepad which became my favorite HTML editor.I lost the "Preview Mode" but I could still make use of  the Notepad 3-step editing technique.
Notepad is still the editor I use for writing small-sized webpages, although when I modify large scripts (PHP and Javascript) I use editors designed for larger files.There are however text editors created to replace Notepad as a webpage editor.Those I think which are in a position to attain this goal must have the following qualities:
no file size limitation
a preview tab that allows one to see how a webpage being edited looks in a browser
an FTP facility that would allow one to directly upload a file or download one for editing
a file explorer that would allow one to see the contents of one's computer even as one edits a page
a "snippet" pane where one can keep a collection of often used HTML codes for quick pasting onto a page
integration with Tidy or a W3C endorsed HTML validating plugin
No File-Size Limitation
.The requirement is obvious.I usually keep my tutorials under 36 kb in size, but for other web documents, especially those converted from Word that need some more editing, I'll need a software that won't offer WordPad as a substitute for doing its work.
An FTP Facility
.One can have a standalone FTP client for uploading files to a webserver, but an editor that has its own FTP capabilites is a big plus, especially when one has to make quick updates.
A File Explorer
.When one edits a web document with Notepad, one will also have to open up the folder that one is using as base directory for the files used for a web project.That way, one can immediately link to graphics or to other media that one intends to use with the web document.Wouldn't it be better if one's directory is accessible through the panel of one's editor?
A Snippet Pane
.I no longer remember who first coined the word "snippet" to designate those snips of code that one often pastes into a webpage (e.g. a javascript function for the <head>).But to have a pane within an editor that opens up to a collection of snippets is a great help.
Integration With An HTML Validator
.If one will have this in one's editor, then one doesn't have to do some trial and error validation at
W3c.org
.
The HTML editors I will now present have all of the above features and some more.This fact sets them above other freeware editors that are presented as "HTML editors."Notice that I don't include the WYSIWYG feature (aka, "Design Mode") among the requirements mentioned.My reason is this:WYSIWYG is over-rated and it is not necessary.Nor do I include syntax highlighting for the simple reason that it too is unnecessary.
HTML Kit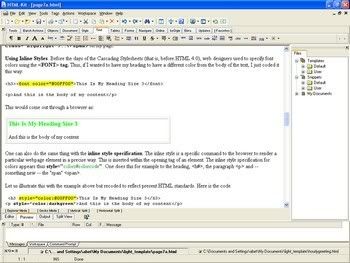 Among the HTML editors available (whether commercial or freeware),
Chami's HTML Kit
is probably one of the better ones.It is an editor that one can customize through the addition of plugin modules that enhance its functionality.It is still growing as its community of users and programmers continue create additional modules for it.If you are looking for a replacement for your Notepad, check out
HTML Kit.
PsPad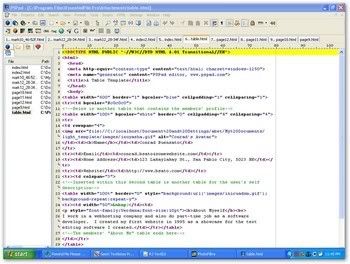 PSPad
has been constantly in the top freeware downloads list of
SnapFiles
and as I write this, the Beta version is at 4.5.3. (released November 3, 2006).It is a programmers' text editor with features that outstrip the list I made above. Unlike HTML Kit, this editor contains all the necessary ingredients I look for in an HTML editor in just one install package.And with John Fiala constantly working on it, who knows what it will become in the next few months?
RJ Text Edit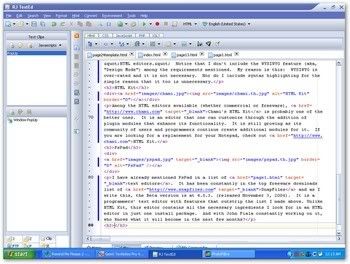 This Swedish-made text editor is meant to be a programmers' editing software but it has some features that one would even want to see in a commercial software.It is one of the newer text editors on the block but it is worth checking out.I have been using it for some of the tutorials I have written and though it demonstrates some imperfections, I have included it here for the simple reason that it is in constant revision.SnapFiles rates it "Very Good", not the "Excellent" that one would expect in a list like this, but excellence is a matter of version.
Like PsPad,
Text Edit
contains all the features I list above -- and more -- in just one distribution package.
Those That Didn't Make The List
There are arguably other freeware HTML editors available that one would like to see in the list I made above.I excluded AceHTML Free and CoffeeCup Free because these are crippleware.I was considering two more for inclusion, but I found out that because of discontinued maintenance, they have been rendered obsolete.
First Page 2000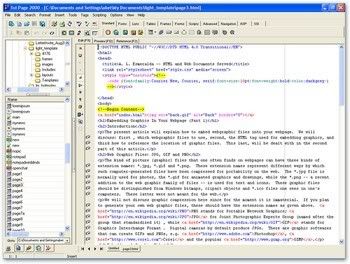 Evrsoft's
creation used to be one of the best three freeware HTML editors available.But that was years ago.Now Evrsoft has come up with the commercial 1stPage 2006 and has discontinued providing support for the freeware.They don't even provide a download link for it in their website.1stPage 2000 could have made my list if 1stTransfer were still available.Alas, it no longer is.1stTransfer was its companion FTP client that was downloaded and installed separately from it.I found a download link for 1stPage 2000 in a Polish website (the software can be freely distributed).You may find it in my [url=frames/index2.html]Resources Page.[/url]
Arachnophilia non-Java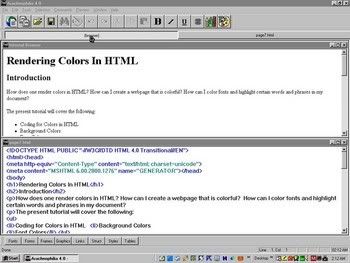 Paul Lutus's
Arachnophilia
was a powerful HTML editor for Windows before it was rewritten to work in Java.It had a feature that I can't find in any freeware editor nowadays:a search and replace engine that could batch process multiple files.Sure it wasn't designed to work with Tidy, but when I was using it years ago, there was a standalone Tidy that worked well with the pages it created.Sure it doesn't have the interface of an RJ Text Edit.But who cares?I didn't.After all, what was important was the webpage it created! The final non-Java version had a Quick Post function which was very convenient.If Paul Lutus hadn't given up on Windows, who knows what Arachnophilia would have turned into now?
Conclusion
So there you have it, my vote for the best freeware HTML editors.If you are planning on replacing Windows Notepad, check out my recommendations.If you pick one of these, I am quite sure it is going to serve you well.
6 blog comments below
So you already have PSPad covered here.
PsPad is an excellent text editor. But it does not seem to get updated very much.
mgeek
on Wed May 06, 2009 8:33 pm
Have you checked their forum? The new builds are posted there. It is slow, but they improve the application quite regularly.
Thanks. PSPad is a compleat HTML editor. It has all the features one would need from Web browser preview to FTP. And it can work via USB, which makes it doubly precious.
mgeek
on Thu May 21, 2009 6:29 am
RJ TextEd now works well in Vista!
it does work well. thanks for the tip
mgeek
on Sun Jan 10, 2010 9:50 pm