---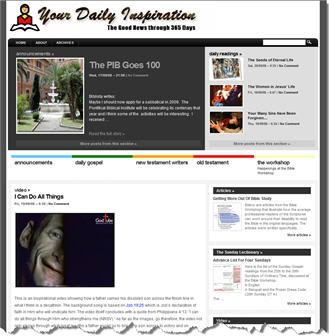 Your Daily Inspiration is intended for myself to be an exercise in biblical-text-association. By allowing a bible text given in the liturgy to interact with my memory of other liturgies attended and of other bible passages studied, I try to see how it resonates with the passages I know and with the passages that have begun to make sense in my life. It is my hypothesis that the interaction would confirm previous knowledge and create a ready store of "bible-links" in my memory that would help me understand other passages. It would also give me a more robust store of scriptural knowledge that would help me explain the Scriptures as part of the ministry entrusted to me.
The website runs on Wordpress clothed in a skin by
MJ Hutagalung
. It runs with several plugins, the most important of which is the Catholic Reference Extension plugin made by
PurePistos
. The plugin creates tooltip links to any Scripture or Catechism reference I make in a post; when one runs the mouse over these links, a box with the text of the Bible or Catechism appears. This way, I don't really have to copy chunks of Scriptures in my site; a verse reference is enough.
At the moment Your Daily Inspiration has two videos and a few posts about the daily liturgical readings beginning September 17. One of the videos is a big hit at
GodTube
and shows how far a father goes to help his disabled son go across the finish line.
It is a nice video with powerful images and with a background song with a powerful message.
.
The other video is the first of a three part video starring Scott Hahn and a book Answering The New Atheism
. The message in this first video is that the new atheism as proposed by people like Dawkins has a popular approach that heckles at believers and does not really give a justification for atheism on rational grounds. Mention here was made of Anthony Flew who was the 20th century's English spokesman of atheism before he became a theist.
Visit
Your Daily Inspiration
. Who knows you might find something that would interest you.
0 blog comments below