---
Kobe and Co. won their seventh straight since March 8 as they posted a 102-84 win against CP3 and the Hornets. This happened on a night when the Spurs lost their third straight to the Memphis Grizzlies, 104-111. With the win, the Lakers move up to four games behind the Spurs, keeping their hold on second place in the West.
If the playoffs started tomorrow, the Lakers (No. 2) would be facing the New Orleans Hornets (No. 7). And if today's game were anything of a round one playoff preview, then the Hornets are on their way to elimination. Chris Paul didn't seem to look for a score during the game, electing to make passes instead. Pau Gasol and Andrew Bynum simply overwhelmed Carl Landry and Emeka Okafor inside the paint. And when Lamar Odom subbed for foul-prone Bynum, the Hornets still could not make any headway. The largest lead of the Hornets was 3, and that came early in the first quarter. And although they kept threatening to overtake the Laker lead -- which got to 18 -- they were beaten back time and time again.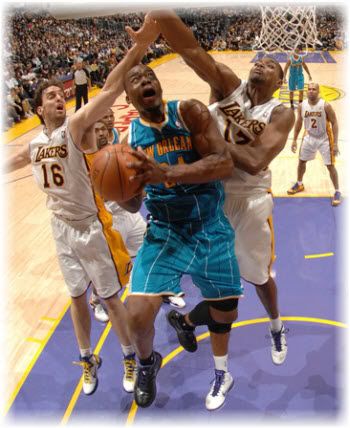 Kobe scored 30 points today. Pau Gasol contributed a double-double with 23 points, 16 rebounds, 1 assist and 4 blocks. Andrew Bynum got into early foul trouble but was productive, with 13 points, 5 rebounds, 1 assist and 1 block. Ron-Ron had 11 points but stole 3, gave 2 assists and grabbed 1 carom. Lamar Odom who is well on his way to the Sixth-Man award had 8 points, 5 rebounds and 4 assists. The Killer B's combined for 15 points, 2 steals and 10 rebounds, of which 6 were defensive.
The Spurs lost to the Grizzlies in a game where Manu Ginobili got sidelined and Coach Popovich got ejected from the game. They've lost 3 straight and are now just 4 games ahead of the Lakers. The Mavericks continue to threaten the No. 2 seed in the West with a win over the Phoenix Suns, 91-83. The game was close until the late 4th quarter when Jason Kidd torched the Suns with 2 three-pointers. The Lakers will be facing the Mavericks on March 31 (PST); the game will decide which of the two will have the 2nd seed. But the Lakers will have the advantage of a four day rest while the Mavericks will have to go through the Clippers first (March 30, PST) before facing Kobe and Co. on the second night of a back-to-back.
0 blog comments below