---
The Lakers beat the Timberwolves, sweeping them 4-0 this season, in a game that turned physical in the fourth, 106-98. It would have been a nice win if not for Andrew Bynum committing a flagrant 2 foul on Michael Beasley and Kobe getting a neck injury from T'Wolves Martell Webster. But a win is still a win. And on a night when the Chicago Bulls and the Boston Celtics fell to their respective opponents, the Laker victory pushed Kobe and Co. to fourth place in the league while cementing their hold on 2nd place in the West. As of this writing, the NBA's top 8 looks like this:
1. San Antonio (55-13) 0.809
2. Chicago 49-19 (0.721)
3. Boston 48-19 (0.716)
4. LA Lakers 49-20 (0.710)
5. Dallas 48-21 (0.696)
6. Miami 47-22 (0.681)
7. Oklahoma 45-23 (0.662)
8. Orlando 44-26 (0.629)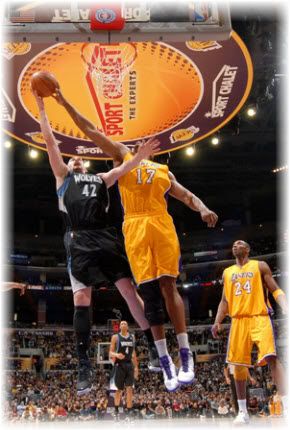 The game was close for the first three quarters, with Minnesota and the Lakers trading runs that saw the score see-saw in the direction of both teams. And then, it got ugly when at the 6:16 of the 4th, Beasley who has been trash talking with several Lakers got floored by Big Drew as he drove to the basket. Beasley got up to confront Bynum and in the process got a technical. Big Drew was given a flagrant 2 and was fortrightly ejected from the game. Less than a minute after this (at 5:57), Kobe fouled Webster on a play and in the process got hit on the neck and was knocked down. The growing physicality of the game seemed to galvanize the rest of the Lakers as they locked down on defense and made their charge, with Odom and Fisher leading.
Pau Gasol put up 25 points, 5 rebounds, 1 assist and 4 blocks. Before he was ejected from the game, Bynum already had a double-double (10 pts, 14 rebounds), 1 assist and 2 blocks. Kobe played with his sprained ankle and was good for 18 points, 4 rebounds, 5 assists and 1 steal. Odom and the Killer Bees combined for 30 pts, 4 steals, 11 assists and 13 rebounds. After the Laker time out at 5:57 until the end of the game, the Lakers outrebounded and outscored the T'Wolves, 8-3 and 16-5 respectively.
0 blog comments below