---
Suffocating. That was how one sports writer described the Lakers as they kept the score of the Magic low during the
third and fourth quarters to win 97-84
in a game that showcased the talents of D. Howard and A. Bynum.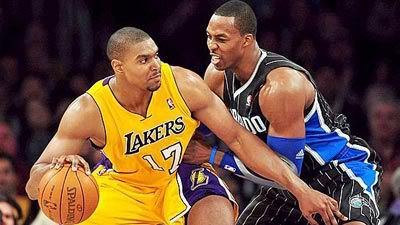 It was a game of big men. Howard finished with 22 points, 15 rebounds and 2 blocks. But it was Bynum who did a lot of damage with his 10 pts, 18 rebounds and 4 blocks in just 27 minutes of play. Big Drew was so overpowering in the match up that C. Clark had to question the label that has been attached recently to Bynum -- Dwight Howard Lite:
Quote:

(T)onight Andrew Bynum finally got a chance to show his new-found mettle against the man who is the gold standard for center comparisons in the league, Mr. Dwight Howard. And, with 11 rebounds and 3 blocks, Drew did not disappoint. Sure, I would have liked him to score more than six points, but Howard is a fearsome defender in his own right, so I can't fault Bynum for simply choosing to neutralize Howard instead of seeking his own offense. All in all, it was a pretty solid effort on the evening ... except it came in the first quarter!! As Drew inhaled rebound after rebound, gobbled up shot after shot, and single handedly kept a frigid Laker team from getting blown out of this game early, it became clear that the term "lite" has no place in describing Andrew Bynum's game. Hell, judging by his ability to use his length and reach to take rebounds away from Howard, and his ability to scare Howard just as much on offense as he is used to scaring people on defense, we might need to start calling Dwight "Andrew Bynum small". Source



The Magic may have led the Lakers during the first half of the game, but the beginning of the third quarter saw Howard and Co. succumbing to a stifling defense that was matched by the production of the bench. Odom led the second team with 16 pts, 7 rebounds, 3 assists to an 18-5 run spanning two quarters so that by the time the starters got back in 6:04 in the fourth, the Lakers were already comfortably ahead. This Laker defense forced 18 turnovers that were converted into fastbreak points. Writes C. A. Clark


Quote:



The Lakers forced the Magic into 18 turnovers on the game, or 20% of their plays. Nearly half of those turnovers were steals, most of which were caused by aggressive doubling of Howard on the block. Ron Artest, Derek Fisher and Matt Barnes all took turns forcing Howard into bad situations, and Dwight was slow to pass out of the double team. All those steals led to a veritable feast of fast break points for the normally snail paced Lakers, who managed 20 points in transition as compared to only five for the younger, more transition seeking, Magic. That, my friends, is how you get back in the game when you can't throw one in the ocean, as the euphemism goes, and Matt Barnes deserves to be pointed out because his energy is exactly what the Lakers have often been missing in his absence. Tonight, the team played like a bunch of Matt Barneses, and that energy was the key to victory.



Kobe played despite his injured ankle, contributing 16 pts, 5 rebounds, 4 assists, 1 steal. Pau had 23 pts, 5 assists, 5 rebounds while Fisher gave 15 pts, 2 assists 2 steals for the first win in the Laker's March homestead.



0 blog comments below