---
The Lakers end their road trip
on a high note with a win in Dallas
. The win put back the Lakers in the +.700 and gave them ample opportunity to overtake the Mavericks for 2nd seeding in the West.
After starting their post-All Star campaign with a 6-game winning streak, they went on a road trip beating the Spurs and the Hawks before succumbing to the Heat in Miami. The loss to Miami was a close one with the more desperate getting the win in the last few minutes of the ballgame.
The game at Dallas was a close one too
. The Lakers led the Mavs through the first three quarters on a performance that saw the bench coming out in full force with Steve Blake leading the way. Their dominance especially came out in the third quarter leading into the fourth when Bryant left the game because of an ankle injury.
Kobe went down hard on an ankle after Shawn Marion blocked his attempt in the third quarter. He left the court and went into the locker room only to re-emerge mid-way into the fourth. He re-entered the game to finish with 16 points, 5 rebounds, 4 assists and 3 steals. In the meantime, the Lakers repulsed every attempt that the Mavericks made for a comeback while the BlackMamba was away.
Starring for the bench was Steve Black who played his best yet for the Lakers with 9 pts, 5 assists and 1 rebound. He made two crucial three pointers to shove the Lakers to a ten point lead in Bryant's absence. Odom added 8 points, 4 assists, 3 rebounds, 1 steal and 1 blocked shot while Shannon Brown had 8 points and 2 rebounds for the bench.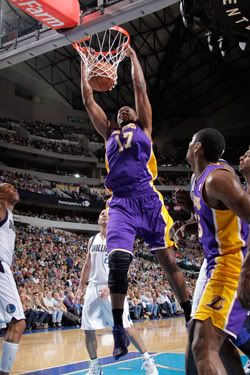 The Big Drew had another stellar performance in the win scoring 22 points and adding 15 rebounds as he dominated the bigs of the Mavericks. He helped the Lakers dominate the Mavs in paint scoring. To be sure, the Mavs outrebounded the Lakers 48-43, but the presence of the Laker bigs still overwhelmed them. Pau Gasol had 18 points, 5 rebounds, 3 assists and 1 block in the win.
Most impressive during this 4 game road trip was the Bynumite. He might as well be the MVP during a stretch that saw the Lakers win over the Spurs, the Hawks and the Mavs. He contributed 13 points and 12 rebounds
to the Laker effort in Miami
.
For the rest of March, the Lakers will be playing at the Staples with a homestead that begins against the Orlando Magic on Monday, March 14 (15 here, GMT +
and ends with another game against Dallas (March 31).
0 blog comments below