---
The Lakers are currently on a seven-game road trip leading to the All Stars' Weekend in late February. They have won 4 of the contests and are still looking forward to three. The wins have been over the New Orleans Hornets, the Memphis Grizzlies, the Boston Celtics and the New York Knicks. Still waiting for the Lakers are the Orlando Magic, Charlotte Bobcats and the Cleveland Cavaliers. Of the recent wins of the Lakers, the biggest was against the Celtics. The win over the Knicks at the Madison Square Garden was a bit expected, since the Lakers already beat them soundly once before at Staples.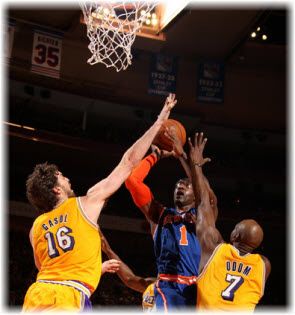 At first, there were doubts as to whether the Lakers would perform well on this road trip. Before they started on the road, they lost to the Spurs by a buzzer beater. But the games with the Hornets and the Grizzlies showed us how the Lakers can be gritty, and finally against the Celtics, Kobe and Co. finally showed how they got to be champions last year. Sure, the Celtics had Shaq and some other players not suiting up for the game due to injuries, but the core squad that beat up the Lakers last January 31 were playing. And then, just barely 24 hours later, the Lakers breezed into the Madison Square Garden to show how dominant they can be as they drubbed the Knicks.
I am still waiting for the Lakers-Magic game though to see how Kobe and Co. perform against the elite teams of the NBA. They've been having problems with .500+ teams. If their performance during this road trip is any indication, then they may have gone over the hump. The Magic is currently struggling, barely above .600, and has just lost to the Hornets. But they still have Dwight Howard, Jameer Nelson, Hedo Turkoglu, and the ex-Wizard Gilbert Arenas under the direction of Coach van Gundy. They may be "struggling" but can still spoil the Lakers' performance on the road.
Kobe Bryant has been leading the Lakers' balanced attack, with Pau Gasol -- named International Player of the Night twice consecutively now -- Lamar Odom and Andrew Bynum creating problems for opposing bigs. Ron Artest has been quiet in his contribution, clamping down on the opposition's scorers and stealing the ball to fuel the transition offensive. The big performances have been coming from the second team, however, with Shannon Brown leading the way. Right now, the Lakers are playing well. I hope that they can continue their current performance especially their execution of plays and their lock-down defense. This last was actually instrumental in their win over the Celtics.
2 blog comments below
Carmelo and Billups and Stoudemire are going to rule the East woooo!!!
Is NY your pick for the East in the Finals? Maybe next year. This year, I think it is a toss up between the Celtics and the Heat.
mgeek
on Tue Mar 01, 2011 3:35 pm