---
If you remember Win32's Card.EXE program, then AZZCardFile is a more advanced substitute.  It is much simpler to handle than TextBlockWriter and far easier to use than the Literary Machine.  I have used it to write my reviews of FlexigenSoft's AccelClip, AccelMan, ActualDoc and some of the articles at Otium Sanctum.  And I found it to be very convenient to use.
Quick Processing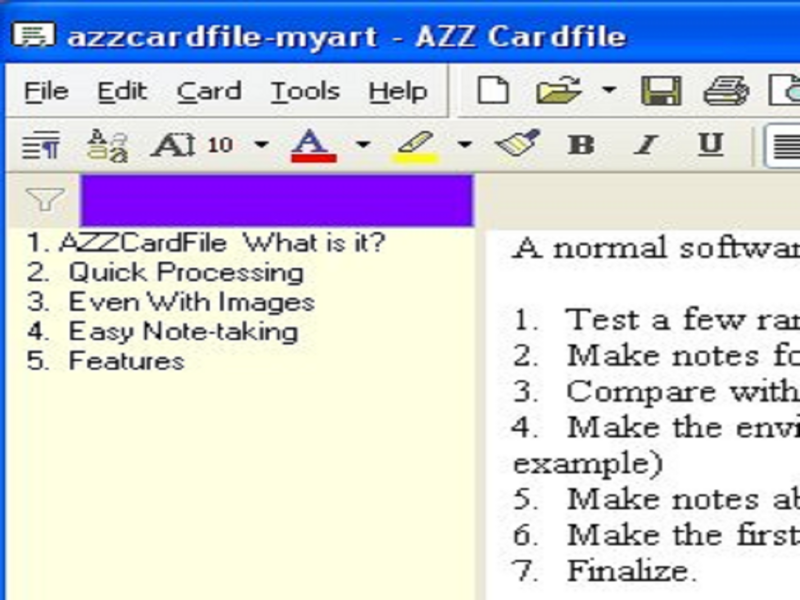 When I wrote the article about the blind man Bartimaeus, I only followed a few steps with AZZCardFile:


I'd open up a card

Type in the title

Type in the note

I did that for about six or seven cards and then put these cards in order by the simple process of renaming the titles, adding numbers to these.  Thus the first card was numbered 1, the second 2, a subtopic 2.1 and so on.  Then I exported these to a text file which I then converted into an HTML page manually for posting at Otium Sanctum.  The article took me only about one hour and a half to finish: from draft to final copy to posted material.  That was because I have gathered my materials beforehand through AZZCardFile, stringing these together for the first draft and then reworking the material for the finalized article.  Throughout this process (until the final *.TXT version), the article was done on AZZCardFile.  I changed editors only when the final *.TXT file was already available and had to be rewritten before being coded with HTML.  It was easy.
Even With Images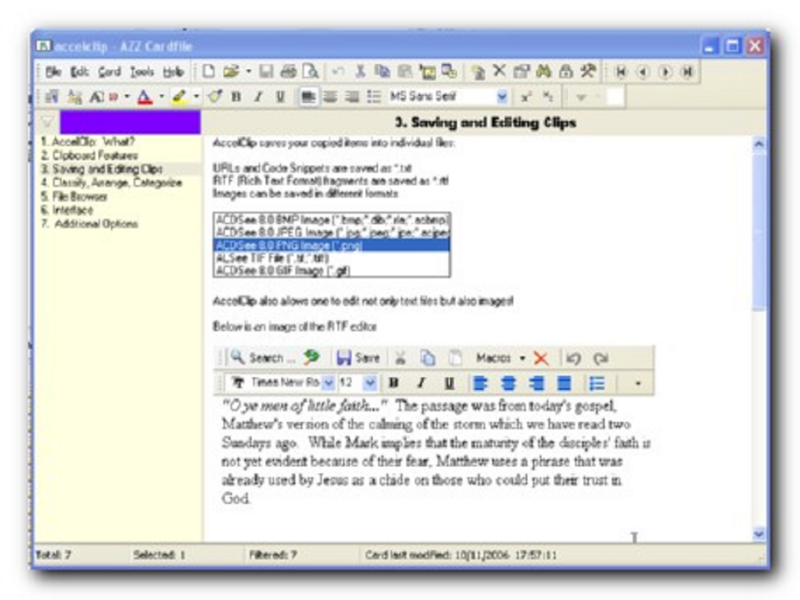 When I was writing my reviews for FlexigenSoft's softwares, I combined screenshots with text descriptions.  AZZCardFile can take in images either by pasting it from the clipboard (which was very convenient since I was using a screenshot utility that automatically pasted its creations onto the clipboard) or inserting it from a directory.  I created several cards this way, put them together after renaming the titles and exported all the cards into an RTF file.  It was this file which I converted later on into a webpage through the help of an RTF-to-HTML converter.  Writing those reviews didn't take much time.
Easy Note-taking
A normal software review would involve the following steps:


Test a few random features of the software

Make notes for each feature

Compare with a similar and already reviewed software

Make the environment a bit more difficult (test the performance under high CPU tension, for example)

Make notes about No. 4

Make the first draft of the review

Finalize.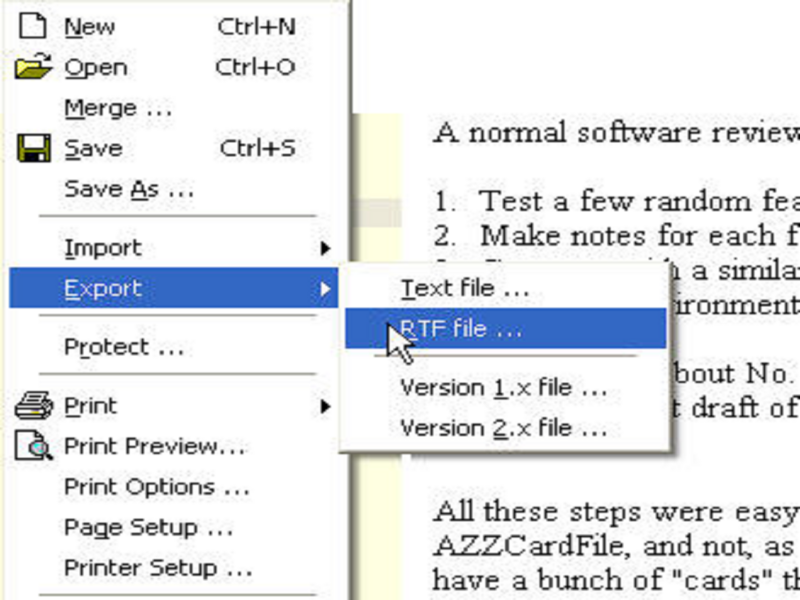 All these steps were easy to perform because at each step, I was writing my observations with AZZCardFile, and not, as I often did in the past, using Windows Notepad.  After Step 5, I already have a bunch of "cards" that I can arrange and put together.  Step 6 involves exporting the whole bunch into an RTF file which I can later on edit with an editor (Windows WordPad is handy) and transform for the Web.
Writing an article for Otium Sanctum or Res Biblica would involve different steps and more card rearrangements, but the procedure is, in essence, similar.
Other Features
1. Formatting
One can format one's notes from within AZZCardFile.  This is a feature that one doesn't find in TextBlockWriter, for example. And formatting has quite a number of options like text size, text color, background highlighting, left-right-center alignment, etc.  AZZCardFile
is
an RTF editor.
2. Read-Only Cards
One can even lock the cards, protecting them from unwanted editing.
3. Password-Protect Cards
If one's cards contain sensitive data, these can also be password-protected. This feature is handy to have if you are using AZZCardFile a a Diary or as a password keeper.
Search
It also comes with a search engine, for going through words in your cards.
3. Versatility
I've been describing AZZCardFile as a more sophisticated replacement for Win32's Card.EXE.  One can also make it work like an address book, or a diary.  Use cards as addressbook entries making use of a template that you have created, or make each card into a diary page, with dated entries.  To see how AZZCardFile can be used in many different ways (only your imagination sets the limit), visit the website
http://www.azzcardfile.com
3 blog comments below
I'll try this one out. I know Card.EXE and this looks better. I might even puchase it.
Tell us what you think about it
mgeek
on Tue May 05, 2009 11:24 am
TreePad is better. I don't like the way data is stored in AZZCardfile.