Bonesy
Do you think some of the girls in this cast are too skinny?


Quote:
When stars get so upset they turn to MySpace, we're there for them—to share in their pain, their frustration, their hopes for a "non thieving non freaky housekeeper."

The latest starlet to go the LiLo way of fighting (or fueling) rumors one blog at a time is 90210's new Brenda, Shenae Grimes.

The actress has been getting nagged by the media for being too thin as well as smoking, and she just wants us all to get on with it. She blogs:

"Now, as you all know now probably, I graced my first major magazine cover, only to be called 'too skinny' alongside my co-star Jessica Stroup. I would like to say once again that neither me or Jessica have issues with our weight or bodies. I happened to be very small built, and ive always been skinny. So I personally think that people need to stop criticizing everyone in the media these days about their issues. Im sure you wouldnt like it if someone pointed out all of your flaws and all of your mistakes."

As for that little smoking habit...

She admits that she "cant say that im proud of it, but there are so many people struggling with the addiction nowadays. I started smoking at about 16, and 1 in 5 teenagers smoke. Im not going to really go into the issue, but my hope is that you will all just stop hating and get on with it. I smoke. My choice. Im sorry if you dont like it, but this is who I am."

Shenae is here, she's skinny and she smokes, so we'd better get used to it. Though we're pretty disappointed she didn't also address the rumor about "tormenting everyone on set." Maybe next blog?

CREDIT: http://www.eonline.com/uberblog/b31158_90210_star_shenae_grimes_blogs_being.html



IMAGE BELOW: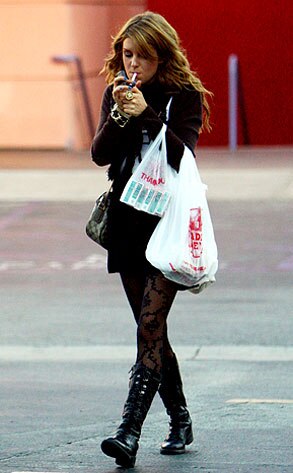 DO you think she's too skinny?