Lollirot
[See a * mark beside a band? I have seen 'em live!]





So I find that most people have heard of the genre known as 'Industrial', but have never sampled the music.

Industrial music, I am often asked, is different to Electro/Electronica in what way? Well thats hard to say. Depending on the band and what-not there are small to extreme ways to tell. A mass of the time the vocal work stands out more, as well as the words that are used and the subjects the singer or singers bring up. To top that off certain samples, sounds, and devices are used that most other forms of music do not stray into. It is much more 'hardcore' the majority of the time - while you will often, again, be unable to really always pick Industrial music apart.

Industrial can often be heard being refered to as 'Elektro' or 'Elektronic Body Music'. Bands such as Front Line Assembly*, Nitzer Ebb, and Front 242 easily fit into that catagory. There is also 'Elektronic Rock' which will often have a slightly more mainstream feel - including bands such as KMFDM*, Zeromancer, and Ministry*.

Depending on the ERA a band is from, there are different sub-catagories to the music. Industrial can be found all the way back into the 1970's - if you try.

Today though, the most popular form is 'Aggrotech' - which appeared in the 'Third Wave', 90's to current. Bands such as Suicide Commando, Wumpscut, Psyclon Nine*, Hocico, Grendel, Combichrist*...The list goes on with some of the biggest names in Industrial.

Industrial music will often also bring out a certain aspect of 'style' in the vast majority of its listeners. These can be seen in subcatagories to the 'Gothic' kids. 'Cyber', 'Cyber Goth', 'Cyber Rave / Club', 'Candy Raver', 'Graver', are all different types of persons and style. The styles do stand out very much and are a common calling card for musical taste.





. . . . . . . . . . . . . . . . . . . . . . . . . . . . . .





Bellow are some files I have hosted for you to Download and try out.
I do own the albums and the singles of all the songs, they are not pirated.

Right Click > Save File As...

[

A small majority of these songs do involve 'cursing' so if it offends you, or certain subjects such as abuse bother you - clear away from the files! As well, know that 'E Nomine' is often Catholic based music. If the relegion or its prayers offend you? Step asside!

]

+ And One - "Wet Spot"
+ And One - "Military Fashion Show"
+ De/Vision - "Hands on my Skin [Spanish Green Mix]"
+ Project Pitchfork - "Timekiller [And One Mix]"
+ Colony 5 - "Accelerate"
+ E Nomine - "Das Böse"
+ E Nomine - "Deine Welt"
+ E Nomine - "Schwarze Sonne"
+ Skabdriver - "AnTiMiNd"
+ Covenant - "We Stand Alone"
+ Covenant - "Ritual Noise"
+ Covenant - "Call the Ships to Port"
+ Combichrist - "This Sh*t will F*cK you Up""
+ Combichrist - "Like to Thank my Buddies"
+ Apoptygma Berzerk - "Until the End of the World"
+ Apoptygma Berzerk - "Starsign"
+ Dope Stars Inc. - "10000 Watts of Artificial Pleasures"
+ Dope Stars Inc. - "Overdriven"
+ Siouxsie and the Banshees - "Red Light"
+ Stromkern - "Perfect Sunrise [Wavform Mix - Icon of Coil]"
+ Icon of Coil - "Shelter"
+ Icon of Coil - "Shallow Nation"
IN ADDITION, as most often people adore Combichrist and ask for more...
Combichrist is mostly one-man based. Andy is really cool. Sometimes he brings in a friend, or works with other artists.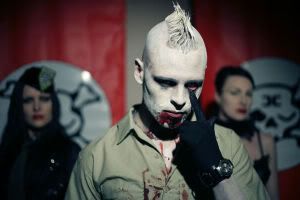 I think it is too hard to pick other bands similar to Combichrist as they are a very original sound...

Grendel does match up a bit. I have an Album of theirs, the newest one. You know Grendel I am sure - they had a mainstream hit on the dance stations. "Zombie Nation". If you heard it I am sure you would know it.

Andy LaPlegua is originally from the band Icon of Coil. Combichrist was his side project that seems to be just as big or bigger.

You could also try Wumpscut - who I have music of, also. andy also does the side-project Panzer AG which I do not have files of, but there is a site with one file playing in the BG to give an idea: http://www.panzer-ag.com/site/

You can always order albums offline.


. . . . . . . . . . . . . . . . . . . . . . . . . . . . . . . . .

Providing some more Combichrist, Wumpscut, and some Grendel.
I don't have a mp3 version of the 2005 'Zombie Nation'.
[ WHICH IS SO MUCH BETTER! ]
But I can send it over a messanger if wanted.
As well as other songs.

+ Combichrist - "Happy F*ckin' Birthday [BDay Boy; BDay Girl]"
+ Combichrist - "Enjoy the Abuse"
+ Grendel - "Soilbleed [Agonoize Remix]"
+ Grendel - "Zombie Nation [Original]"
+ Wumpscut - "Christf*cK"