Lollirot
On 10/05/06 I was with my best friend Ary, it was a Thursday so the night before had been dancing. Ary likes to work out before it gets dark, so we were heading out around 6pm to walk over to the Park. One of her neighbors stopped us, explaining they thought a kitten might be dead. Now I am a lover of animals, and big time for cats. Already, we own a number all of which are rescue cases. Ary went over to try and see why it would be dead, I stayed behind. Moment later though, she called out: "It's alive!"

I ran point blank. ...I was stopped a few feet from it were I dropped to my knees with a yelp, and began balling out tears. The kitten was only JUST a month old, if that. Someone had slit it's leg nearly off, and left it for dead. It was a few days old, the wound, as infection had set in. The paw was almost five times the size it should have been. The animal trying it's hardest to drag along crying out in pain each time.

I went to it once I could calm enough to not excite her. I laid on the street itself with her over an hour, letting her rest into my body while my dad called all over finding a vet who would stay open past 8 for me to get to them.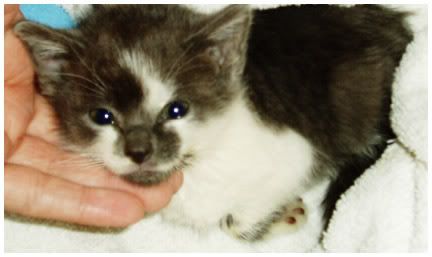 [ First night in my house. ]

It was a roller coaster, the following week and a half. For two nights I did not sleep or eat, I just stayed with her tending to the wound and cast getting her stable enough for the vet to hold her a weekend. So when they took her from me that weekend, I was as stressed as could be. They were going to operate and remove the leg the third day, and in this there was a chance of death with the kitten so young. [There always is a chance, but there was more of one now.]

That day though, I called about the time they told me she would be ready to go home...The vet had re-checked the leg, and as medication had done wonders over the period of time she was with me and the vet - he felt it might actually mend!

Since then she has been home with me. The open wound itself is gone, a few final layers of skin are healing though. The bone was broken, and will never heal into place correctly so the leg always will have a bit of a bend and she will have a bit of a limp. And nerves take a long long time to heal, so she still has little use of the paw other then ability to walk on it and...well slap me around during play time. :]

The first night I had her, I named her. Elys. Elys is short for Elysium, which is the Greek word for Heaven.

She is about two months now. :]

I only have images from when we first had her, though, and the wound was kept open after the weekend away as wrapping it would have made cleaning it harder - and might have kept infections in.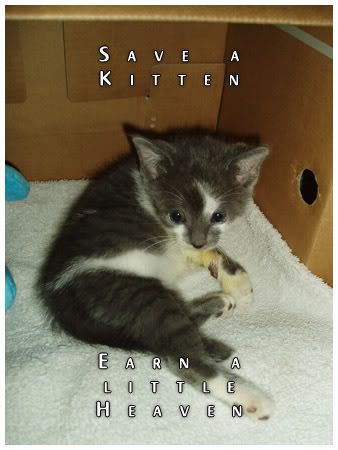 [ First night home from vet. ]