izimngcubes15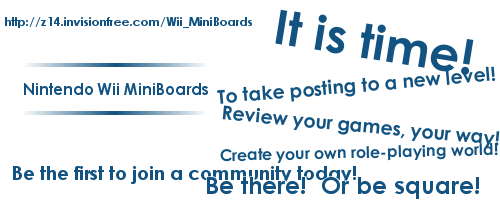 Nintendo Wii MiniBoards

is the official forums for Nintendo Wii MiniSite! We have different strategy with these forums.

Here's our spotlight features!:
-Cool ranking system, alike to Nsider Forums!
-You'll be able to review your own games, YOUR way!
-Read others' reviews/previews
-Upload your own fan art and create a gallery!
-Create your own RPG your way!

We offer much much more! And we'll continue to build up with more features and unique ideas! So stay tuned! These forums officially opens July 23, 2006!