Marston
http://gtachicago.com/
http://thegtaplace.com wrote:
Wow! Amazing news! A few weeks ago I found the domains www.gtachicago.com and www.grandtheftautochicago.com had been registered and were parked at Register.com (see screenshot) which as you know is where Rockstar have also parked gta4.com. After contacting Rockstar they told me to keep quiet so I reluctantly did...

But now today, Rockstar Games have announced just one of the cities for the next installment of the series, GTA4. Chicago, the windy city. Unlike previous GTA games where cities have been based upon real life one, GTA4 will take place in real life cities. The storyline from Rockstar sounds intriguing, the game will apparently span across three different eras.

Chicago, 1933. Since January 16, 1920, alcohol has been illegal to consume, gangs rule the streets, and homicide rates are soaring. Johnny Roselli has just escaped a lifetime prison sentence after being falsely accused of murdering his own family. He's now returned to lead his Mafia gang back with a vengance to bring an end to the prohibition, and by any means necessary, even if it means wiping out rival gangs.

The next two eras have been kept kind of secret by Rockstar, although we hear they are 1970 and 2010, also, Rockstar have currently left the titles of these cities un-announced, probably to let all this hype circulate. We'll be bringing you more news on these exciting revelations as soon as we have it though, so stay tuned!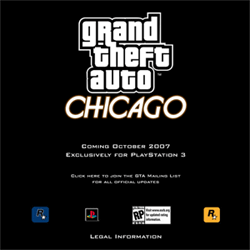 As you see by visiting the official website, it's almost the same as what the official San Andreas site looked like back when it launched. No flash intro yet, took a month for them to do one for SA so perhaps by the end of the month we'll have one for Chicago? The font they've used for the logo looks like a typical 1930's typeface, seems they're adament on getting the atmosphere authentic.

Anyway enough of my excited babble! Get discussing this in our forums and let us know your wishes for the game!