marquis51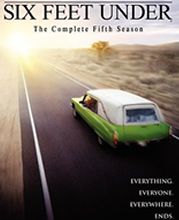 Well after searching the forum, I realised that there was no thread on this excellent serie !!!!
No really if you wonder what to watch next, take in consideration this 5 seasons serie.
You can find complete details here:
http://www.imdb.com/title/tt0248654/
http://www.hbo.com/sixfeetunder/

From my point of view, the mix of drama and comedy is really excellent. The Characters are developed and the background of the story is completely original: The family is running a funeral home. Plus you dont feel the serie is taking you for a child... all kind of language, sex, real life stuff !