lilinguo
Argentina secured a spot in the 2006 World Cup by beating defending champion Brazil 3-1 Wednesday night. The United States moved into strong position for its fifth straight World Cup berth with a 3-0 romp at Panama.


Argentina's Hernan Crespo celebrates his goal against Brazil during their World Cup 2006 qualifying soccer match at Stadium Monumental in Buenos Aires, Argentina June 8, 2005. [AP]
The Argentines joined Iran, Japan, Saudi Arabia and South Korea as the first nations to qualify for next year's World Cup, along with host Germany, an automatic qualifier in the 32-nation field.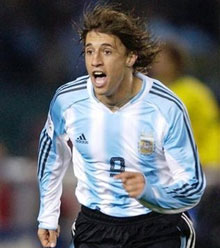 Two goals from striker Hernan Crespo led Argentina. Crespo scored in the third and 39th minutes and Juan Roman Riquelme added another in the 18th in a showdown between the two South American soccer powerhouses, winners of seven World Cup championships.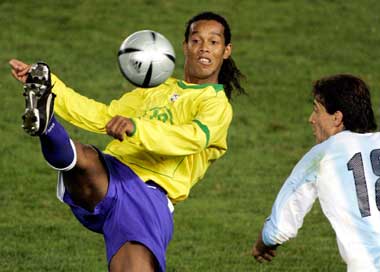 Roberto Carlos scored Brazil's goal in the 71st.

Argentina, World Cup winner in 1978 and 1986, leads the 10-team qualifying group with 31 points, followed by defending champion Brazil with 27. Ecuador is third with 23, followed by Paraguay with 22 after 15 games.

The United States got goals from Carlos Bocanegra, Landon Donovan and Brian McBride in the first half at Panama City. Bocanegra scored off Donovan's corner kick in the sixth minute, Donovan got his third goal in two games in the 20th and McBride took advantage of a defensive mistake in the 40th. Kasey Keller made the lead stand up with his second straight strong performance in goal, getting his 39th career shutout in 81 games.


Argentina's Juan Riquelme (C) celebrates with an unidentified team mate after scoring his team's second goal against Brazil in the first half their soccer World Cup qualifying match in Buenos Aires, June 8, 2005. [Reuters]
Mexico beat Trinidad and Tobago 2-0, and Costa Rica edged Guatemala 3-2 in the CONCACAF region.

At Monterrey, Mexico, the hosts didn't break through until the 65th minute, when Jared Borgetti put in a rebound against Trinidad and Tobago. Luis Perez added a goal from the right side in the 88th minute.

Mexico improved to 4-0-1 and kept first place in the CONCACAF region with 13 points. Trinidad and Tobago, which topped Panama 2-0 at home last weekend, fell to 1-3-1, and has four points.

In South America, Colombia got its second straight lopsided win, 3-0 over Ecuador. Tressor Moreno scored two goals within four minutes, while Martin Arzuaga completed the rout. Colombia, which routed Peru 5-0 on Saturday, has 20 points.

Japan gained the first berth, beating North Korea 2-0 in a game played in Bangkok, Thailand, in a stadium closed to fans. FIFA, soccer's governing body, last month shifted the game, originally scheduled for the North Korean capital Pyongyang. FIFA made its decision to play the game at Bangkok's Supachalasai Stadium after fans in North Korea rioted following a World Cup qualifying loss to Iran at Pyongyang.

Japan got goals from Atsushi Yanagisawa in the 73rd minute and Masashi Oguro in the 88th.


Brazil's Ronaldinho (L) fights for the ball against Argentina's Cristian Gonzalez in the second half their soccer World Cup qualifying match in Buenos Aires June 8, 2005. Argentina beat Brazil 3-1. [Reuters]
Iran beat visiting Bahrain 1-0 on Mohammad Nosrati's 47th-minute goal before 100,000 at Sazadi Stadium in Tehran. With one game remaining, Iran (4-0-1) and Japan (4-1) cannot be caught in Asia Group B with Bahrain (1-3-1) and North Korea (0-5).

Saudi Arabia qualified for its fourth straight World Cup by beating Uzbekistan 3-0 at Riyadh. Sami al-Jaber scored in the eighth and 60th minutes before 75,000 at King Fahd Stadium.

South Korea, a semifinalist in the 2002 World Cup, earned its sixth straight berth with a 4-0 victory at Kuwait. In hot weather and a sand storm, South Korea go goals from Park Chu-goung in the 18th minute, Lee Dong Gook in the 29th, Kim Sang Sik in the 54th and Park Ji Sung in the 61st. Officials suspended play for eight minutes after South Korea's second goal as fans hurled stones and empty water bottles.

Saudi Arabia (3-0-2) and South Korea (3-1-1) earned the berths from Group B. Bahrain will play either Kuwait (1-3-1) or Uzbekistan (0-3-2) in a playoff to determine which nation will play the No. 4 team from North and Central America and the Caribbean for another berth.

In Europe, Ireland won 2-0 at the Faeroe Islands on goals by Ian Harte in the 51st minute and Kevin Kilbane in the 58th. The fog that often blankets the 18-island archipelago between Scotland and Iceland forced several planes with Irish fans to be diverted to Denmark or Norway. Only about 300 Irish fans made it to the Torsvollur Stadium.

Ireland (3-0-4) moved into the Group Four lead with 13 points, one ahead of Switzerland (3-0-3), two in front of Israel (2-0-5) and three ahead of France (2-0-4).

The eight European group winners and top two second-place teams qualify, and the other six second-place teams go to playoffs.

Ukraine moved closer to its first World Cup appearance with a 1-0 victory at European champion Greece, getting a goal from Andriy Husin with nine minutes left at Piraeus. Ukraine (7-0-2) leads Group Two with 23 points, seven ahead of Turkey (4-1-4) and eight in front of Greece (4-2-3).

Jan Koller scored four goals in 12 minutes to lead the Czech Republic over visiting Andorra 8-1, and the Netherlands won 4-0 at Finland on goals by Ruud van Nistelrooy, Dirk Kuijt, Phillip Cocu and Robin van Persie. The Dutch (7-0-1) lead Group One with 22 points, one ahead of the Czechs (7-1).

Spain needed an equalizer from Carlos Marchena in the sixth minute of second-half injury time to gain a 1-1 tie against visiting Bosnia-Herzegovina, which finished two men short after Nedim Halilovic and Mirsad Beslija were ejected.

Zvjezdan Misimovic gave Bosnia the lead seven minutes before halftime in Valencia, the first goal in 686 minutes against goalkeeper Iker Casillas, a Spanish national team record. Spain (3-0-4) leads Group Seven, one point ahead of Serbia-Montenegro (3-0-3).

[img][/img][img][/img]
Quote:
Code:
[list][list=][img][/img][img][/img][img][/img][img][/img][img][/img][/list][/list]