wombatrpgs
Didn't see an appropriate topic, so here's one for ADOM. It's one of the few major roguelikes out there. For those unaware, a roguelike is a single-player RPG featuring dungeon crawling, unforgiving permadeath, randomly-generated worlds, and graphics that look like this: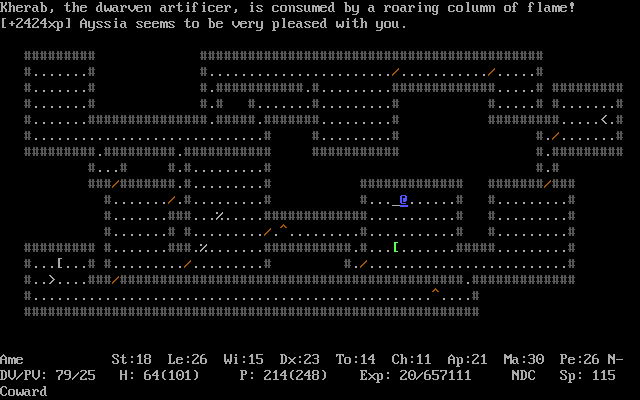 If you're still reading after those ASCII graphics, it can be downloaded here: http://www.adom.de/adom/download.php3

It's probably my most-played game of all time. There's a high degree of character customizability and lots of ways to change playstyle, and the ever-changing world makes no two games the same. ADOM is one of the few rogulikes to have color and a full map, even if its graphics are a bit primitive. It also features some 250+ ways to die, with entries from being shot by monsters to being transformed into a writhing mass of primal chaos to exploding yourself in some improvised alchemy.

The reason I bring it up now is that the creator, Thomas Biskup, is trying to raise enough funds to continue ADOM development almost 10 years after the last major update:
http://www.indiegogo.com/resurrect-adom-development

It would add a ton of content as well as at a stretch goal turning the ASCII graphics into something more like this:



If you're an old roguelike junkie or someone new to ADOM, if you enjoy the game, I recommend a small donation. A modern version of this game is sure to be excellent. In any case, it's worth a download for old-school RPG fans. Any tales of stupid ADOM deaths out there?