jmi256
Obama and the Democrats are at it again. This time, top Democrat Jon Corzine, who is under investigation for somehow "losing" hundreds of millions of dollars of investor money. He couldn't keep track of investor money, but somehow he managed get hundreds of thousands for Obama's campaign.

I'm sure the Occupy mob will be all over this /sarcasm



Quote:
Barack Obama's Top Wall Street Fundraiser Corzine Under Investigation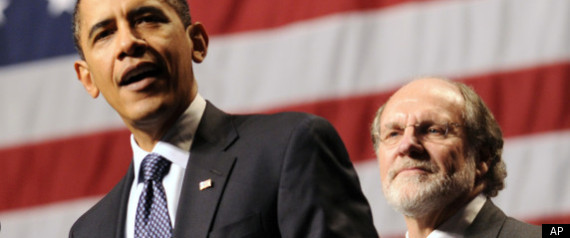 In the wake of the bankruptcy of MF Global, the broker-dealer firm headed by former Democratic politician and current fundraiser Jon Corzine, the reelection campaign of President Barack Obama finds itself caught in a situation that has become all too familiar for politicians since the economic meltdown in 2008. Close ties between Wall Street and Washington, especially in the realm of campaign finance, have led to a series of public relations difficulties, with MF Global being only the most recent example.

Corzine, the chairman of MF Global, is a former Democratic governor and senator from New Jersey who has long-raised money for the party and its candidates.

He is currently listed as a top fundraiser for the reelection of President Obama, having brought in over $500,000 from other donors.



This year, Corzine has contributed the maximum to both the Democratic National Committee ($30,800) and President Obama's reelection campaign ($5,000). MF Global executives and board members have joined Corzine in maxing-out their donations to both the DNC and Obama's campaign. In total, MF Global executives, traders and board members have combined to donate $143,200 to the two committees aiding the president's reelection.

On Tuesday, MF Global found itself under investigation by the Securities and Exchange Commission, the Federal Bureau of Investigation and the Commodities Futures Trading Commission after hundreds of millions of dollars were discovered to be missing from the firm's customer accounts. Neither MF Global nor Corzine have been accused of any wrongdoing, and MF Global could not be immediately reached for comment Wednesday.

The Obama reelection isn't the only recipient of contributions from Corzine and other MF Global executives. The Mitt Romney campaign received $4,500, the National Republican Congressional Committee another $5,000, and a collection of Democratic politicians and party organizations received tens of thousands, mostly from Corzine.

This public relations debacle highlights the growing difficulty for politicians in broaching the divide between public angst at Wall Street and the glaring fact that the financial sector is the single biggest source of campaign contributions over the past 13 years.

"Campaign fundraising from the financial sector can cut both ways, but generally it's more favorable for [politicians] to raise funds from the industry," Public Citizen's legislative representative Craig Holman told The Huffington Post. "It isn't often that you hear public demands over a particular egregious case. MF Global would be an appropriately egregious case."

A source close to the Obama reelection campaign told HuffPost Wednesday that the campaign will return contributions from any individual at MF Global who is charged with wrongdoing.

There are few examples of top campaign bundlers finding themselves or their business under investigation during a presidential campaign and, thus, it is a rarely-trod road over whether to return bundled contributions.

The clearest case came in 2008 when the presidential campaign of then-Sen. Hillary Clinton returned $850,000 in contributions bundled by Norman Hsu, who was under investigation for a variety of fraudulent activities including reimbursing campaign contributions to pad his bundled total.

Source = http://www.huffingtonpost.com/2011/11/02/barack-obamas-top-wall-st-fundraiser-under-investigation_n_1072199.html