HalfBloodPrince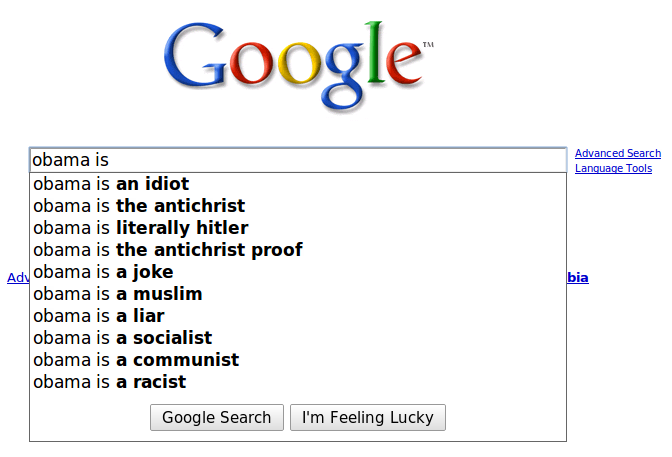 Had you typed in 'obama is ' exactly two years ago, you would be presented with suggestions such as 'obama is the solution', 'obama is our savior', 'obama is the best', 'obama is awesome' (yes really). It kind of shows how childish people are in their temporary, enthusiastic passions. These are the sheep I guess, the people who can't see through bullshit from the start.

Seeing that sort of tells you a bit about mankind now, how hyped up we get over just about everything. Depressing really, it shows how paralyzingly stupid people are. The same people who in 2008 enthusiastically paraded around with their 'YES WE CAN blah blah blah' signs now enthusiastically tell their buddies that Obama is the anti-Christ. Seriously. I wish I took a screenshot of the suggestions in early 2008, that would have made an awesome image comparison...

So I guess we can conclude that people need something to release their adrenaline on, whether it be marching around yelling slogans at the top of their lungs, or beating the shit out of complete strangers, or a whole slew of other things. To think, our unborn children will, in a couple of centuries, be enthusiastically fighting World Wars on Mars over how awesome their Martian colonies which don't exist now are.

Eh, in a couple million years continental drift will result in a new combination of countries with enthusiastic minions ready to kill each other. Sorry to get off on a ramble, but seeing how radically different the Google suggestions for 'obama is' are than they were just two, or even one, year ago, really makes people seem like such mindless idiots. But I guess it isn't their fault, they're just

sheep

.