jmi256
For those of you who put so much reliance on polls. It Bush years to drop below 50% in the polls while Obama has managed to do it in six months.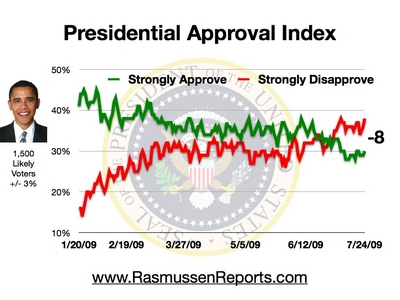 Below are some excepts, but you can read the full report here:


Quote:
The Rasmussen Reports daily Presidential Tracking Poll for Friday shows that 30% of the nation's voters now Strongly Approve of the way that Barack Obama is performing his role as President. Thirty-eight percent (38%) Strongly Disapprove giving Obama a Presidential Approval Index rating of -8 (see trends).
Quote:
Just 25% believe that the economic stimulus package has helped the economy.
Quote:

Overall, 49% of voters say they at least somewhat approve of the President's performance. Today marks the first time his overall approval rating has ever fallen below 50% among Likely Voters nationwide. Fifty-one percent (51%) disapprove.
Quote:

Fifty-three percent (53%) now oppose the Congressional health care reform package.
Quote:

Nationwide, 72% don't want the federal government determining what type of light bulbs they should purchase.
Quote:

Thirty-one percent (31%) now say the U.S. is heading in the right direction. That's down nine points from the 2009 peak. Republicans continue to enjoy a slight edge on the Generic Congressional Ballot.


Source for all = http://www.rasmussenreports.com/public_content/politics/obama_administration/daily_presidential_tracking_poll